Posted in
Blog
on November 10th, 2021.
GAPT Embraces NAPT Certifications with Member Scholarships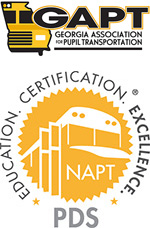 In 2019, the Georgia Association for Pupil Transportation (GAPT) helped their members get a course or two closer to National certification with scholarships to complete NAPT Online Certification courses. One hundred and twenty-five (125) scholarships were awarded. In 2020, GAPT doubled that number. GAPT remains committed with another 250 scholarships for their members working toward an NAPT Certification!
Encouraging the education and advancement of their members is great for GAPT, Georgia, and the entire pupil transportation industry as it builds a strong, capable, and determined workforce. The GAPT Professional Development Scholarship Program is an easy model for any association that wants to provide an enticing incentive for membership or conference attendance.
NAPT currently offers 4 professional certification designations, created specifically for student transportation professionals:
Certified Director of Pupil Transportation (CDPT)
Certified Supervisor of Pupil Transportation (CSPT)
Certified Pupil Transportation Specialist (CPTS)
Certified in Special Needs Transportation (CSNT)

NAPT Certification

Online Courses

Contact Us
Share this: