Posted in
Blog
on September 6th, 2016.
Hello,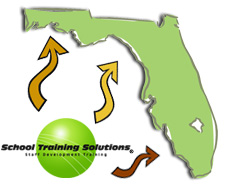 I am planning a "Florida Meet & Greet 2016 Tour" to discuss the school bus driver and staff development online training options School Training Solutions currently offers in Florida. September 14–22, I am visiting current customers and other counties interested in adding an online component to their training programs. I will gladly demonstrate courses, answer questions about the benefits of online training, or simply leave my contact information.
School Training Solutions offers a variety of online classroom training topics geared toward certification, in-service, accident remediation, and general professional development.
If you are interested in a brief meeting to discuss how online training can save your department or school money, please contact me! If we are unable to connect during the "Florida Meet and Greet Tour," I would be happy to set up a webinar or enroll you in our DEMO area to experience courses in our online classroom.
Sincerely,
Patrick Willi
School Training Solutions
Share this: