Posted in
Blog
on September 6th, 2018.
Join NAPT for the 44th Annual Conference in Kansas City, Missouri, October 27th-30th.
The annual NAPT Conference and Trade Show is consistently recognized as the premier school transportation conference in the nation. Over the course of the conference, participants have access to keynote speakers, in-depth training courses, dozens of workshops, and vendors showcasing the latest in pupil transportation. Topics range from the latest in specialized transportation to effective department management and everything in between. There is something for everyone involved in pupil transportation.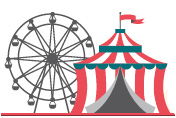 Access to industry leaders
Nationally recognized speakers
Industry's largest trade show
Credits towards national certification
Industry relevant workshops
Professional networking
A special, live action EVENT
America's Best Inspector and Technician Challenge
Join us at the Big Show!
Share this: