Posted in
Blog
on February 13th, 2013.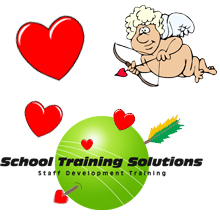 Everyone at School Training Solutions would like to wish you a Happy Valentine's Day!
Are you considering surprising someone in the office with flowers or chocolates? Before you do, today is the perfect day to take a Sexual Harassment Awareness course. It is discounted to $10.00 using the Promo Code "Valentine" — but only through February 24.
Existing customers: This course may already be included in your training catalog. Contact us if you have any questions.
This Sexual Harassment Awareness course does not count toward any State Specific Certification Curriculum requirements we offer online.
Upon successful completion of this stand-alone course, a certificate of completion is available for download.
Contact us if you have any questions: 1-800-261-6248.