Posted in
Blog
on December 19th, 2013.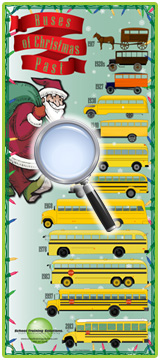 The holidays bring some of our favorite things about the season: the smell of pie & pine, carolers caroling, the classic movie 'A Christmas Story', hot cocoa & egg nog, and everyone's favorite fat man.
School-aged children also get excited about getting a break from school (perhaps not quite as excited as they get on the evening of December 24) and from having to wake up early to ride the cheese wagon.
But, did you know that school buses didn't always have their distinctive, easy-to-spot look? In fact, some of the very first school buses were even pulled by horses. Take a look into the past with our "Buses of Christmas Past" infographic to see how buses have changed throughout the years.
Everyone at School Training Solutions (STS) would like to wish our students and colleagues a sincere "Happy Holidays." Thank you for choosing School Training Solutions.
Share this: