Posted in
Blog
on December 5th, 2014.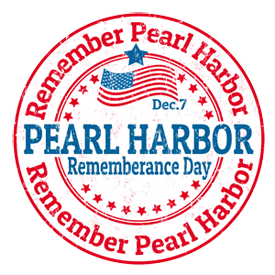 National Pearl Harbor Remembrance Day is observed annually on December 7th. This day commemorates the attack on Pearl Harbor in 1941 and is a time to remember and honor those who died or were injured in the surprise attack that day. This tragic day in our nation's history ignited American patriotism like never before, and our response to the attacks sent a message to the world that America will not go quietly. The attack on Pearl Harbor helped shape national defense policy and even today remains the subject of books, articles, documentaries, and movies.
BACKGROUND
On the morning of December 7, 1941, the Imperial Japanese Navy attacked the U.S. Naval Base at Pearl Harbor, Hawaii. Although the attack lasted less than 2 hours, there was great loss. More than 2,000 Americans were killed and over 1,000 were injured. Almost 20 warships were sunk or damaged, and Americans lost nearly 200 aircraft.
CONSEQUENCES
The attack was intended to prevent the U.S. from interfering with their military actions in the Pacific. However, instead, the event led to the escalation of WWII. The very next day the United States declared war on Japan and entered WWII. In his speech to Congress, President Franklin Roosevelt stated that the bombing of Pearl Harbor was "A date which will live in infamy."
COMMEMORATION
On this day, the United States Flag should be flown at half mast in honor of those who died in the attack of Pearl Harbor. Many other activities and special services are held to commemorate this event. Wreath-hanging ceremonies, parades, luncheons, media stories, and speeches by survivors are just a few. Memorials have also been built to remember this day. The USS Arizona and USS Utah memorials are two of the best known, located on or near the ships' sunken wreckage. Congress also established the Pearl Harbor Commemorative Medal, awarded to those who participated in combat operations or who were killed or injured in the attacks.
INTERESTING FACTS
| | |
| --- | --- |
| 1. | The sunken USS Arizona is still leaking an estimated 2-9 quarts of fuel every day. |
| 2. | In 1961, Elvis Presley, who had recently finished a two-year stint in the U.S. Army, raised over $50,000 to help create a national memorial at Pearl Harbor by performing a benefit concert at Pearl Harbor's Block Arena. |
| 3. | An estimated 30% of visitors to Pearl Harbor are from another country. |
| 4. | 23 sets of brothers died aboard the USS Arizona. |
| 5. | 17 pilots were able to reach a plane in time to defend Pearl Harbor from the sky. |
| 6. | During the government shutdown service members stationed in Hawaii took care of the memorial. |
| 7. | The USS Arizona's entire band was lost in the attack. |
| 8. | Veterans of the attack can be laid to rest at Pearl Harbor. |
| 9. | Chief nurse Lt. Annie Fox was the first woman to receive the Purple Heart for her leadership and bravery fulfilling her duties after the attack. |
Share this: