Posted in
Blog
on October 4th, 2016.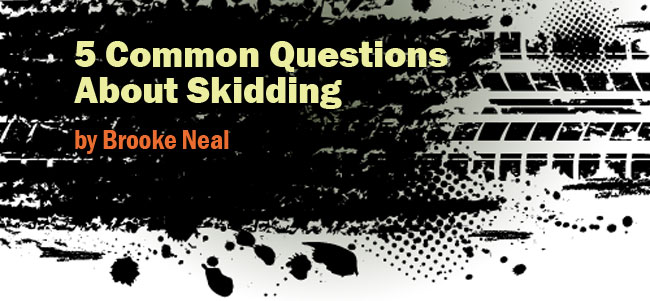 5 Common Questions About Skidding
by Brooke Neal

Driving a school bus can be a challenging task. Through proper training and practice, school bus drivers develop the necessary knowledge and skills to safely transport children to and from school every day. But, how does one prepare for a dangerous situation such as skidding? The following are answers to five common questions about skidding.
What is Skidding?
Skidding occurs when the tires of a vehicle fail to get traction on a surface and start spinning or sliding. Research shows that skidding is a major contributing factor in one out of four serious accidents. It is also estimated that skidding is responsible for approximately 10,000 deaths and 300,000 injuries every year.
What Causes Skidding?
Although slick, muddy, or icy roads can all contribute to the possibility of skidding, contrary to popular belief they are not the main causes of skidding. Driving your vehicle too fast for existing conditions is actually the chief reason most people skid. The following driver errors can cause skidding:
| | |
| --- | --- |
| • | Overbreaking – Breaking too hard and locking up the wheels |
| • | Oversteering – Turning the wheels more sharply than the vehicle can turn |
| • | Overaccelerating – Supplying too much power to drive the wheels, causing them to spin |
| • | Driving too Fast – Driving too fast for existing road conditions |

What are the Types of Skids?
There are two main types of skidding: fishtailing and plowing.
Fishtailing – Also known as oversteering, fishtailing occurs when, upon turning your vehicle, the rear wheels lose traction, "spinning out", causing the rear of the vehicle to slide from side to side.
Plowing – Also known as understeering, plowing occurs when the front wheels lost traction causing the vehicle to make a much wider turn than intended. Usually this is the result of taking a turn too fast for the road conditions.
What Should I Do if my Vehicle Skids?
The first thing to remember if your vehicle starts skidding is – DON'T PANIC – try to remain calm and do the following:
| | |
| --- | --- |
| 1. | Take your foot off the accelerator and the brakes. This will allow the vehicle to slow down so that you can regain some control. Your brakes are useless until you regain some traction. |
| 2. | Gently steer in the direction you want your vehicle to go. As your vehicle turns back in the right direction, be prepared to steer in opposite direction in order to stay on the right path. |
| 3. | As you start to regain traction and control, gently apply the brakes if your front wheels are skidding, or gently accelerate if the rear wheels are skidding. This will help you regain even more traction. |

How Can I Prevent Skidding?
| | |
| --- | --- |
| • | Drive smoothly – Be gentle and progressive when steering, accelerating, and braking. |
| • | Slow down, especially on unfamiliar roads. |
| • | Increase your stopping distance in case a vehicle in front of you stops unexpectedly. |
| • | When approaching a bend, take extra precaution. |
| • | Pay attention and consider the potential unsafe actions of other drivers. |
| • | In poor weather conditions, be extra careful. |

Even the best, most conscientious drivers will sometimes experience emergency situations. When these situations do occur, you only have a few seconds to react. By the time you think about what to do, it's too late. The proper preparation could make all of the difference, especially when the lives of others are in your hands.

Brooke Neal
Guest blogger
School Training Solutions
Discounted Course:
SOUND DRIVING PRACTICES 3 – AWARENESS
This lesson discusses sound driving practices, including speed limits, following distances, passing, stopping, downshifting, and avoiding collisions.
Regularly $22.50 / Now $15.00

Share this: