Posted in
Blog
on November 4th, 2015.
2015 National Association Pupil Transportation (NAPT) Summit Trade Show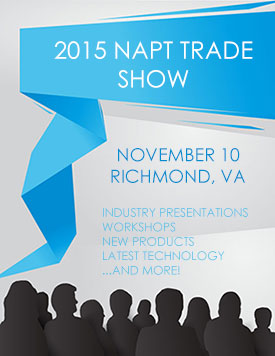 Each year, along with providing cutting edge curriculum, Professional Development Series (PDS) courses, industry presentations, lectures, workshops, and fun, the NAPT Summit also serves as a showcase for the newest products and the latest technology the pupil transportation industry has to offer.
Join NAPT in Richmond, VA November 10 for NAPT's One-Day Trade Show, the biggest and best gathering of school bus manufacturers and school transportation product suppliers along with pupil transportation professionals looking to learn about the latest products and services on the market today.
Will you be there?

The annual NAPT Conference and Trade Show is consistently recognized as the premier school transportation conference in the nation. Expect 6 keynote speakers, 15+ different in-depth, training classes, dozens of workshops, more than 120 vendors, and more than 1500 people. See the newest products and latest technology in pupil transportation!
Share this: